We are planning the 2022 training courses for this spring. Use the 'Join the Mailing List' button to be notified when the courses are published.
Training and Development
---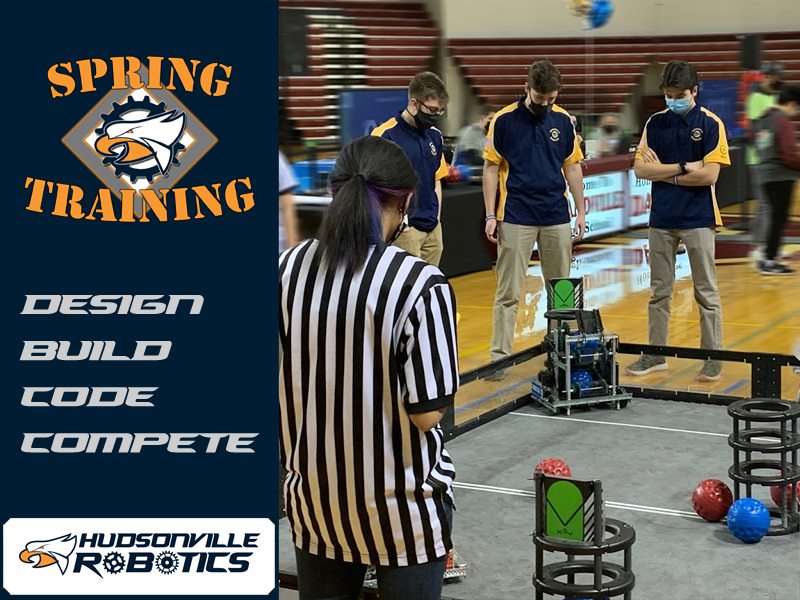 Have you heard that Hudsonville has an amazing Robotics program, but wondered how to get your child involved? We have the perfect opportunity to have them join us and get a hands-on introduction.
STEM and problem solving abilities are in high demand at universities and in business. Hudsonville Robotics promotes these skills while students compete in a fun, challenging, fast paced game. Over 25,000 teams compete throughout the world each year and our community has had numerous top level teams.
Intro to Competitive Robotics is a two evening course that teaches students the basics of building, programming, and driving a competition robot. This course will allow students to try competitive robotics to see if they are interested in the fall competition season.
Day 1 - Planning, structure, motors, and control systems. We will also share presentations on how our program operates during a season.
Day 2 - Students will use computers to change their robot configuration and create autonomous programming.
Students will work in groups of two and all equipment is provided. Dates, times, and registration is provided through the Hudsonville Community Education program. We will also post the training schedule on our Events page.
Note that there are different courses based on the age of your student.
Hudsonville Community Education Website