2022-23 Fall Enrollment - Closed
The registration process for the 2022-23 Fall Competitive Robotics Season is now closed. You can email us and we will try to add a new student but teams are already forming.
---
Videos of this season's competition
5-6 IQ Slapshot
7-12 VRC Spin Up
Mall of America - Recent Competition
---
2022 State Champions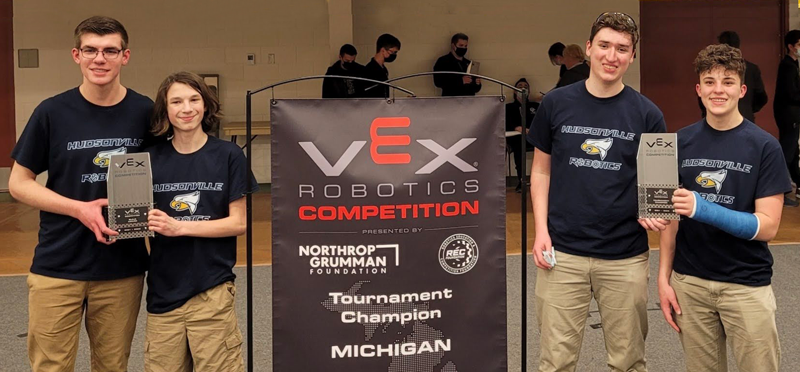 Congratulations to team 8031E winning the Michigan VRC High School State Championship at Kettering University
Flint (02/27/2022) - Hudsonville Robotics team 8031E, in alliance with Unity Christian team 36620A, secured the state championship at the Kettering University Michigan VEX Robotics Competition. Students competed with and against 78 teams from across Michigan. The action-packed day required high school students to execute the 2021-2022 VEX Robotics Competition game, Tipping Point presented by the Robotics Education & Competition (REC) Foundation.
As Tournament Championship and Build Award recipients, the team has qualified for Vex World Championship, extending their journey to compete with 800 teams in Dallas, TX. Hudsonville Robotics will have three teams attending worlds this year.
---
Welcome to Hudsonville Robotics Competitive Robotics Program.
We provide students the equipment and knowledge to compete in the world's largest robotics competition program.
Each April the Robotics Education & Competition Foundation releases a new game. Student teams must design, build, program, and operate a robot built from a standard library of parts.
The fall competition gives teams the opportunity to test their skills and watch other robots perform. Regardless of the outcome teams will gain experience and will work to improve their abilities. The competition drives innovation.
This sport is very challenging and requires quite a commitment but it will provide students with an environment that teaches S.T.E.M., design, programming, logic, along with social skills, integrity, and sportsmanship.
This program is available to Hudsonville Public School students from age 9 to 18 and is divided into three age groups. Vex IQ Elementary is for grades 5 & 6, Vex VRC Middle School is for grades 7 & 8, Vex VRC High School is for grades 9-12.
Remote Aerial Drones (RAD) Competition 2022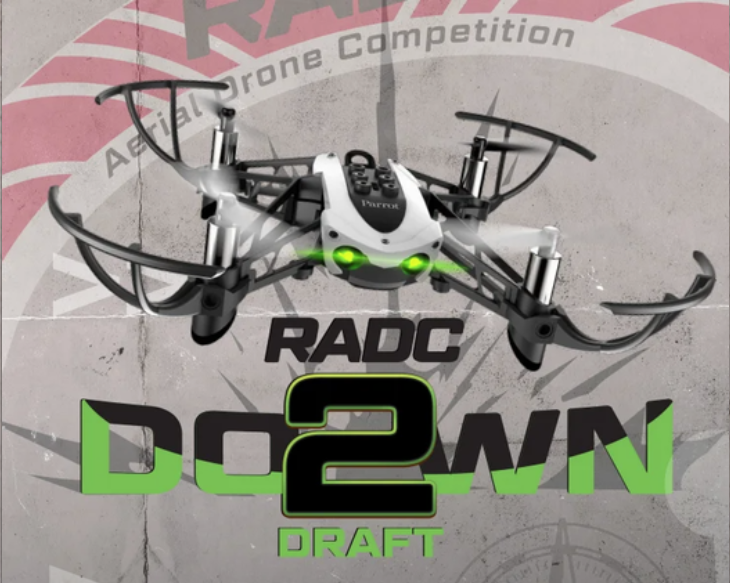 Hudsonville Robotics is preparing for our 2022 RAD program where students compete by flying mini drones on a competition field.
This program is available to HPS students grade 7-12 and starts in April. There is no fee for robotics students already in the program but there is a $60 fee for new students.
Hudsonville Robotics is expanding our program with training courses.

We are currently working with Hudsonville Community Education to establish the 2022 spring curriculum. All new students interested in participating during the fall competition season must have some experience in our training program - more details to come.
We will also be hosting our Intro to Robotics course which is a two-evening course. This will let newly interested students try competitive robotics before making a large commitment in the fall competition season.
---